Flexible eutectic gels
Our flexible cold packs answer technical quality characteristics.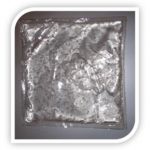 They will assure a control of the temperature in your isothermal boxes for all your short transits.
Eutexia point : 0°C or -23°C
Non toxic product
Container made of PEHD (Polythene High Density)
Gels meeting European food standards.
Directions for use : Freeze it during 24 hours at -20°C.
Volume : 100 ml to 1 L.